Jon & Me: Converse All Stars & One Pop Star
I hate, loathe and detest sneakers, except, of course, for Converse All Stars. Worn by an eclectic bunch, including everyone from Kurt Cobain to Rihanna to Cate Blanchett.
Oh yeah, and me.
Great moments in Converse Style: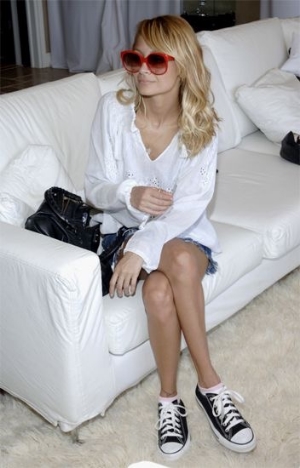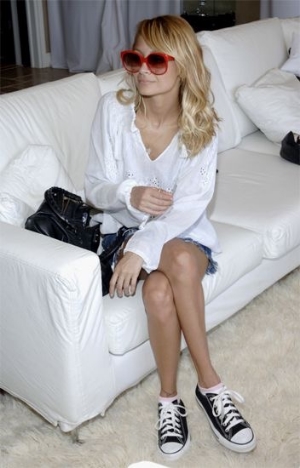 My first pair were red high tops. I conned one of brothers into buying them for me (something about paying him back once the bill arrived which I definitely didn't do and they really weren't that expensive anyway) while we were walking the shops in Newport one day. I wore them with jeans, black pants and skirts. Sneakers and skirts? What was I thinking? Any photographic evidence of that phase has definitely been shredded and tossed and, while we're on topic, no one over the age of 22 should be wearing Chucks (or Chuck Taylors or Chuckies or Cons or Verses as they're also called) with a skirt. It simply stops being cute after that. End of story.
My proudest moment wearing Converse All Stars though actually involved another pair (They were the black low top version.) and a beautiful but disheveled punk musician who went on years later to become an uber famous pop star. Did I mention he was beautiful? Not handsome. Beautiful. He was also a fan of Converse. I know this because there I was in my navy pocket tee from Gap, Levi's from a Salvation Army Thrift Store (I shopped mostly at the Gap sale racks and the Salvation Army back then.) and black low top Converse, surrounded by a sea of girls all dolled up in sexy, pseudo punk regalia. And guess who he wanted to talk to?
Oh yeah. That would be me.
Now don't go getting the wrong idea!
It was all very Hallmark TV movie, not Lifetime. He only drank soda (because his father had had a drinking problem). He bought me a soda. We drank sodas together, And we ended up exchanging notes and letters for a while. Eons ago (but I save everything, precisely why I have the postcard below). I think he may have married a model or something a few years ago? Predictable, no? #Whatever
Back to the Chucks. One of the biggest trends for women this year? Yup, it's sneakers. So I humbly recommend Chucks, but only back to denim or maybe some nice looking yoga pants as you see on Nicole here:
Promise you won't wear them with a cocktail dress, tulle skirt or ball gown. Winky face. 😉
PS - Special cameo by Duke, the Husky. He's a legit celebrity in Garden City Shopping Center ya know.
Photo Credits: All photos courtesy of us, except for the ones of celebs in Converse and Jon Reznick, found on Pinterest and Google Search. #DontSueUs