RI Style Diaries: Stop Being Such A Label Wh*re!
Just because I don't work in a retail store (or a mall) anymore doesn't mean I've stopped shopping. Quite the contrary. And, as I like to say, a good shopaholic can shop anywhere from a flea market to consignment to a discount chain store. That's where Target comes in. I'd be lying if I said I haven't spent beaucoup bucks there over the last few years, but it's only because I go for silly things like Tide Free & Clear detergent or paper towel and toilet paper and end up finding the best stuff. (FYI: I still have a mint condition Isaac Mizrahi scarf from the days of his namesake line for them. J'adore him and if you haven't ever seen Unzipped, the much acclaimed documentary about him by Douglas Keeve, then you MUST watch it ASAP. #TotallySerious) But what I really want to talk about today is....boots.
Yes, specifically, the boots I just bought at Target.
Now, don't go getting all #labelwhore, style snobby on me! These boots are frigging awesome. And if I told you I paid $200, $300 or $400 for them, you'd probably believe me, right?
Well, truth is I paid $29.99 for them. Crazy, right?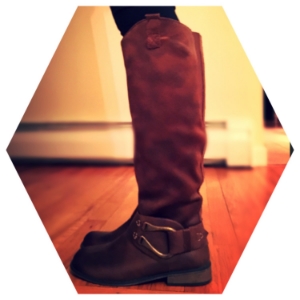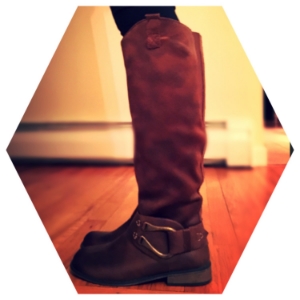 Again $29.99. But they look EXPENSIVE. (Apparently, the Bullseye - aka, people at Target - have gone and priced selected styles of their high boots at $29.99 both in store and online.
Now, back in the day, I almost flunked Geometry (and would've had to go to summer school) because I would stay up late watching made for tv movies or reading rock star bios instead of studying, but I do know that high boots + leggings + a sweater (or long sleeve t-shirt) = an idiot proof style equation for this winter in RI (or New England for that matter).
These boots would also be phenomenal with skinnies (aka, skinny jeans), jeggings and most of the skirts in your closet. Tip: Just make sure the skirt doesn't cover the tops of the boots when you stand up or walk. There should be some leg showing or else you risk looking like Frumpy Miss Frump.
So run, or maybe speed walk over, to The Bullseye and get yourself a pair before they're all gone. Sad face. Sizes and styles were selling out super quick the other day when I got mine.
PattyJ