My NYC Life: Meet RI Native Turned Brooklyn Based Illustrator Giana Sacco
Giana Sacco is a RI native, now living and working as an artist and illustrator in Brooklyn, NYC. Find out what she misses in the Ocean State, her Big Apple favs, and her work, aka, Occipital NYC, in this My NYC Life.
Fav Places
Rhode Island
George's: Great seafood and right at the beach! Has a bar outside so you can grab a cocktail and chill by the ocean. RI is of course known for their seafood, so I tend to hit up Georges when friends from out of town visit.
Olga's Cup & Saucer: This is a lovely cafe in Providence. They have a variety of hot drinks and great sandwiches. I love sipping my cappuccino and having a snack on their cool mosaic table tops.
The Red Fez: There are tons of bars in Providence, but I would have to say this is my favorite spot. The bar snacks are unique and very good and their drinks even better. If you stop in, the whiskey and bourbon cocktails are a must.
NYC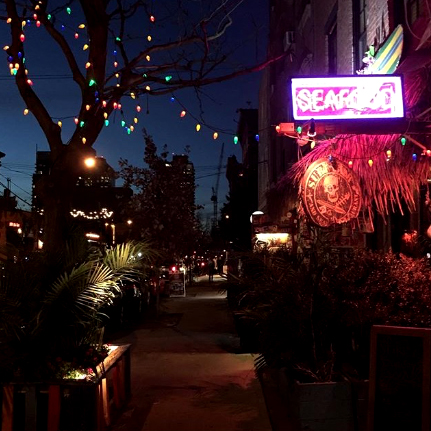 GreenFlea Market: This upper west side flea market is huge as it takes up a school's blacktop, hallway, and cafeteria. I've bought many items here from jewelry to bags to furniture. It's a great place to find inspiration, whether it comes from a current jewelry artist or a collection of toasters from the 1920s.
Diviera Drive: Very cool spot in Brooklyn! The outside has lounge chairs where I usually sit, have an espresso and fresh seafood salad and draw. At night, this place is great to share a pizza paired with cocktails or wine.
Surf Bar: An all time favorite - This bar has SAND! Covering the floor inside and backyard is a "beach". It's like traveling to an island is just a subway ride away. The frozen drink list is amazing! My favorites include banana liquor or baileys.
INSPIRATION / ARTWORK
I find inspiration everywhere: museums, shadows, or store windows I walk by. Lately I've been into the textures of layered posters in the subway walls and graffiti in my neighborhood. I also have phases of listening to certain types of music that I believe comes out a lot in my work, in the lines of the figures and silhouettes. If I'm not in a cafe, I usually like to draw by the water, on the beach or sitting at the piers in NYC.
Occipital
OCCIPITAL: (ak-si-pe-tal) is the visual processing center of the brain. I wanted a strong title for my artwork and came up with the whole concept about a year ago. You can find updates about work in progress and more @occipitalnyc & www.occipitalnyc.com.
Occipital will be displayed for the first time in person on Thurs., December 10th at this sweet spot in Brooklyn, NY called The Station.
Photo Credits: All photos courtesy of Giana Sacco