RI Restaurant Stories: Back To The Providence G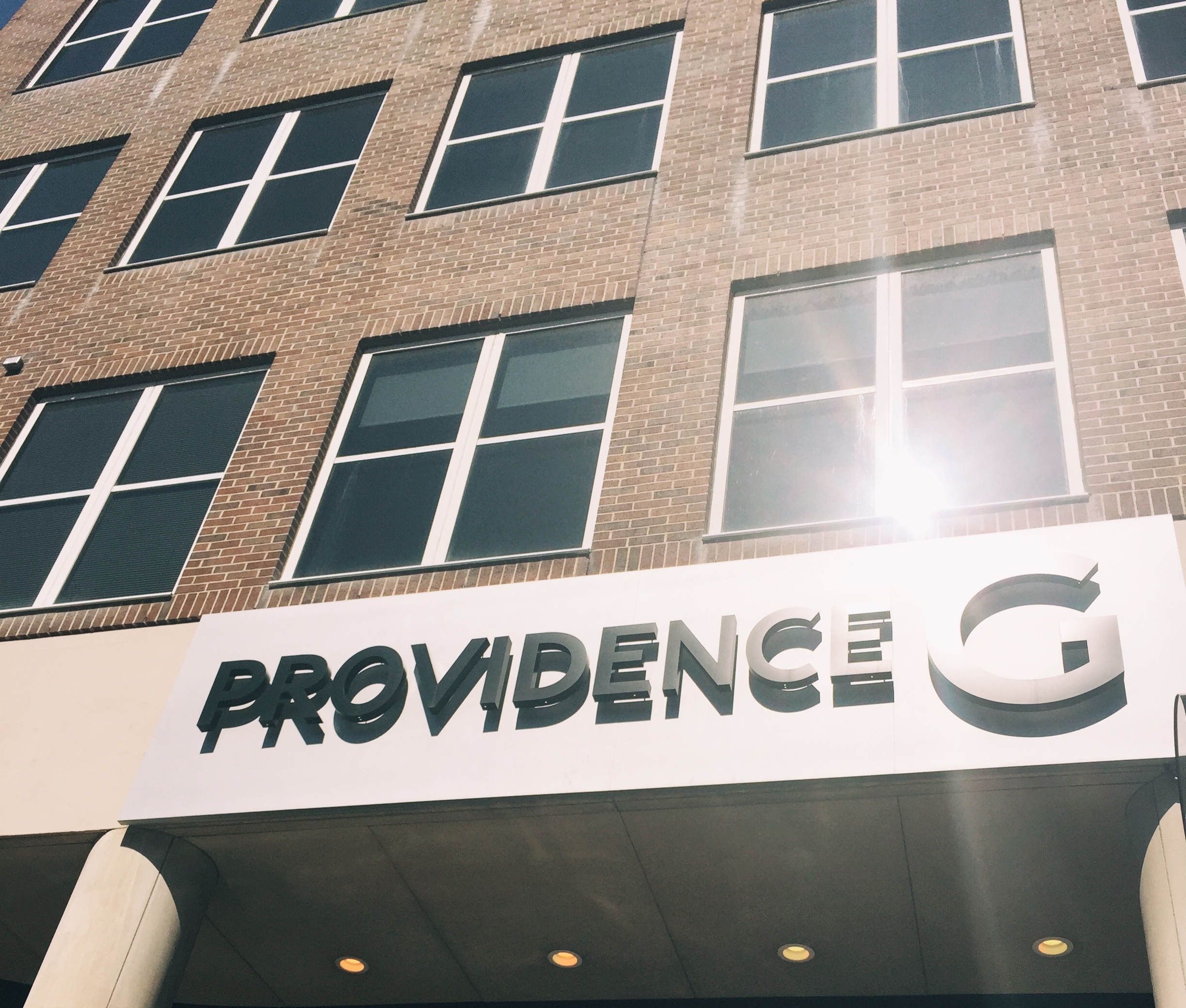 The Rooftop at The Providence G opened for biz several years ago and ever since, it's been one of the hottest of the see-and-be-seen-at restaurants/bars in the capital city. And that's precisely why this post is about two other aah-mazing, ground floor, destinations at The G - namely, the G Cafe and Garde de la Mer (True Story: They have a brand new chef & menu.). - that you probably haven't frequented yet, but really should.
G Cafe
Yesterday, after Uber'ing it downcity, and chatting with the driver about her fav spots in PVD, I marched into the lobby of The G to check out the Cafe there. I ordered my go-to, a latte, and then, added in a fruit cup while the barista told me that 'they' had actually been open close to 11 months. What the....?!?! Yeah, my bad for NOT being aware I guess, but that being said, it's still very new to me (and probably to you too).
From what I spied, while drinking my coffee at one of the sleek black tables nearby, most of the customers either work at The G or live in one of the 55 apartments on the premises. I'm here to tell you that even if you don't live there (#realestategoals), it's an outstanding spot to meet someone for coffee. Or juice. Or a panini (They have a panini machine too!). For business or just to catch up with that friend who works in the city, is perpetually swamped, and refuses to meet you out in the 'burbs. The lobby/cafe area is big city, with those glossy tables, lots of black leather Le Corbusier chairs, and an impressive floor-to-ceiling windowed front that faces the street. The vibe is grown-up and classic minimal all the way. And the really good news is that you won't have to scowl at any aspiring Jack Kerouac's, who are nursing the same mug of coffee for hours and furiously typing away on laptops, in order to get them to vacate, so you have somewhere to sit.
Garde de la Mer
Last summer, I had an outstanding dinner at Garde. (Seriously - My scallops were out of this world people!) The other night I was back to the French inspired eatery, with one of the contributors to this site, to try out their new menu. Well, the stunning interior with its art deco black and white, juxtaposed with the yellow leather upholstery, still wow's. And thankfully, we had a sweet wait person who guided us thru the new menu without the least little bit of attitude. Although when we told her that we blog, I'm pretty sure she thought we were there to write a review for YELP or something.
First and foremost, we chowed down on some focaccia-ish bread that gets the Patty J gold seal of approval. Next we tried the Native RI oysters, served with smoked pepperoncini pearls and meyer lemon (giving them a sassy burst that's part savory, part refreshing), on mini-beds of a brown sugar mixture that's meant to mimic beach sand (I know this because our wait person confirmed it. Beaucoup bonus points for the attention to detail Garde!), and some shrimp, which was ginormous, fresh, and delicious. We also sampled the Beetroot gnocchi, tasty and a nice colorful contrast (Thx mostly to those heirloom beets. But let's NOT forget about the supporting players though - that aged goat cheese, the pine nuts, and some basil.) to the seafood.
I say take any of your seafood loving friends or fam who need a night out in Providence. It's also a swell option for a 2nd or 3rd date - if, that is, you really like the person and have absolutely no intention of ghosting them once summer hits, so that you can go hang out in Newport, or on the water in EG, with your single friends (It happens!).
Ciao for Now,
Patty J
Photo Credits: All photos courtesy of us