The Emerging Eatery Everyone's Instagram-ing From Right Now
It doesn't happen all that often, but sometimes, I get so caught up in something I forget to eat. The other night in NYC was one of those times. That's how come, around 10:30pm, we ended up at a little place in the West Village called While We Were Young. Partly because of hunger and partly because of Instagram.
Have you heard? It's only THE place to Instagram from right now. Over the last few months, some pretty influencial (Insta) Grammers like Hey, Davina (a personal fav!) and diannnnnneee have uploaded from there. Can't blame them really - While We Were Young does look all kinds of adorable in pics, and then there's that Walt Whitman quote. It's lit. Literally. (Did you laugh out loud? Does anyone ever or is it just an awkward pause filler? Idk but I do know that the photos above are co-opted from the While We Were Young IG.)
For my fellow Rhode Islanders familiar with The Duck & Bunny on Wickenden in PVD, this place is a little bit larger than their main room, with the counter/bar, the one that faces the street. So, it's tiny, but simiar to D&B, tailor made for taking smart phone photos, with details like matte finishes (the paint and the table tops....nothing bugs me more than shiny table tops and/or menus, grrrrrrrrr), the muted pink upholstery, the flowers on every table, and the absence of any harsh overhead lighting.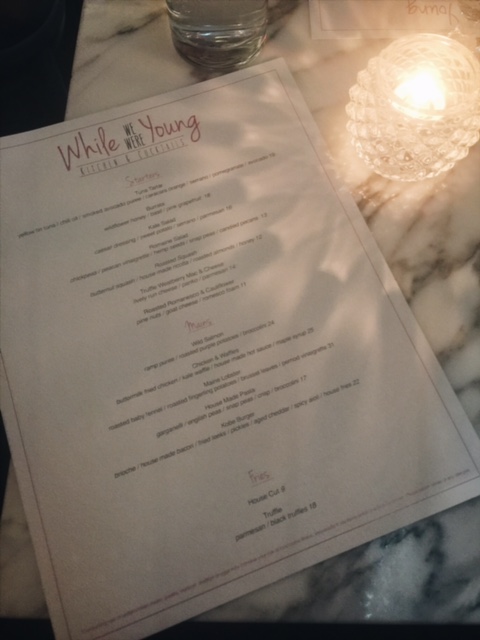 Photo opps and romantic quotes aside, it's on to the food and drink...we split an order of the french fries and also sampled the butternut squash app and a pasta. Enjoyed our nosh, but it's more small plate faire than ginormous portions you take home for lunch the next day. We didn't have any drinks, although everyone around us seemed to be doing some pretty vigorous elbow bending. And the drink menu did sound cute.
No doubt this place is <probably> packed most of the time. The other night, a half hour before closing, we were lucky to get two seats. But that's half the flipping fun. So, don't listen to the naysayers and next time you're in the city, follow your #IG impulse right there. I'm def going back for cocktails real soon.
Ciao for Now,
Patty J
Photo Credits: Top photos from the While We Were Young Insta; additional photos by PattyJ.com