6 Tips For Enjoying Your Next Food Truck Night To The Fullest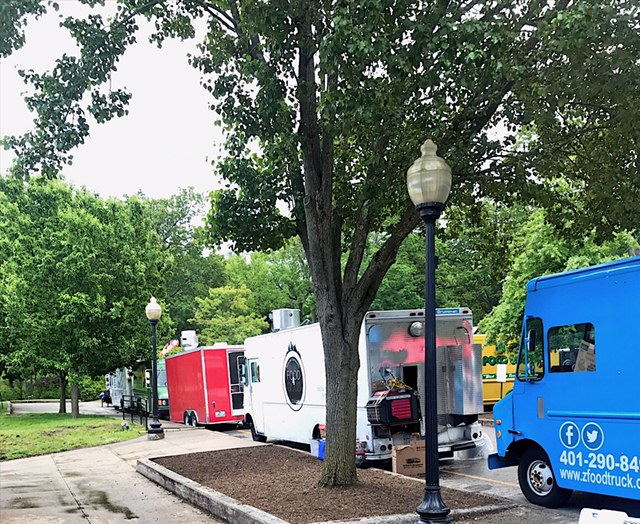 It's peak food truck season again, and gotta say, RI has really ramped up it's game over the last few years. From Narragansett Beach to Warwick's Food Truck Nights (with rotating locations) and now Food Truck Friday at the RWP Carousel, which we actually scoped out last week. Here are a few tips to keep in mind for next time, so you have a mother food trucking good time:
Before hitting one more food truck event, do yourself a favor and watch The Chef, a movie written, directed & starring Jon Favreau. It tells the story of a top chef at a popular LA restaurant who leaves it all behind and starts a new chapter by launching his own food truck. Much to the dismay of almost everyone in his life. Also, keep an eye out for fab cameos by Dustin Hoffman and Scarlett Johansson.
Bring cash. It's just easier for everyone involved.
Bring the kids. The prices are reasonable enough to feed a good size group on a budget and last Friday at the RWP Carousel was a definitely a family-centric atmosphere.
Go hungry. We scarfed down some Friskie Fries and a margarita pizza. (A food truck with a pizza oven? Dreams do come true.)
But not hangry. Don't be that person in line! You know, Mr. (or Ms.) Cranky Pants.
Be prepared. Because the Boy Scouts are on to something with THAT. I mean, I saw some smart cookies at Food Truck Friday last week. One group brought beach chairs (Jealous!) and another took their own beach towels to use as 'cushions' for their seats at the picnic tables were off to the side. Why the heck didn't I think of that?
Ciao for Now,
Patty J
Photo Credits: Close up of food truck courtesy of Ashley Farney.