Why Beauty Hoarding Could Be Good For You, According To This PVD Artist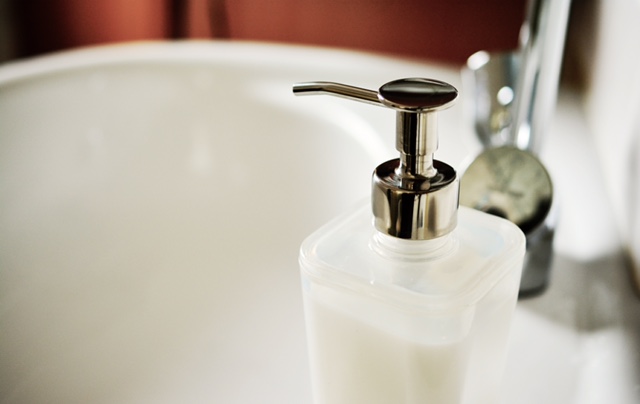 The Easy Magic Of Beauty Products
I never used to think of myself as a person addicted to beauty products (or in some cases, much worse, a hoarder of beauty products!). Everyone wants to think of themselves as "low maintenance," right? Being a person whose uniform is Old Navy jeans and tennis shoes, and who has a fear of styling their hair so has kept it in a bun for 15 years, I always saw myself as a laid back, not-too-fussy kind of person with a simple daily routine. Which I am. About many things. Or at least I thought I was...until I started taking a good, long look in my purse and my medicine cabinet on a regular basis, starting in my late 20s. I realized I would sometimes have 4 kinds of powder foundation as well as 4 or 5 perfume samples on hand at any given moment. That's quite a lot.
I can admit it now: I, Jenny Brown, am a beauty product hoarder. I like to think of it as a bit different than a beauty "junkie" because in cartain cases, the products I choose are more about the packaging and presentation than anything else. I love having a lot of beauty products, lots of choices, lots of scents, lots of different colored bottles. The products could be from CVS, Saks Fifth Avenue, or even in some cases, the grocery store. I love them all equally and want to have them all in my possession. And don't even get me started on samples. I have drawers of them, and pride myself on knowing clerks at various beauty purveyors who always keep me stocked with samples. (My ultimate beauty dream is to have the complete skin care collection from Sisley...that is, if I ever win the lottery!)
One of my favorite things to hoard is bath and body washes/face scrubs. My shower currently offers 5 delightful choices depending on my mood: Philosophy Cinnamon Buns, Crabtree & Evelyn La Source, St. Ives Even & Bright Pink Scrub, Laura Mercier Tarte au Citron, and Bliss Triple Oxygen Face Wash. Actually, I lied - I also have some Vitamin E and Rose Face Wash from Primark thrown in there, too. Often, as I place a new product on the checkout counter, my husband will remind me, "You know, you have a lot of stuff like that in the shower already." Yeah, I know. But I need a little more, and it isn't just "stuff' - It can make or break a morning!
In truth, my routine is very simple in the morning: shower, powder and lipstick for makeup, jeans and a sweater for clothes. But somehow knowing that I used Coco Chanel Body Wash and a Clarins matte face powder makes it all a bit fancier. I love looking on my shelf at all the perfume bottles in the morning and trying to decide what I will use. I may be wearing the same jeans I had on yesterday, but I also have on Lolita Lempicka body cream and Davines Dry Shampoo in my hair. And a rollerball of Stella McCartney perfume in my purse.
I think I like looking at beauty products as much as owning them - and it's an activity I prefer to do solo (no need to justify purchases, explain obsessiveness over certain items, etc). I've spent hours in CVS and Target testing products. I enjoy a good trip to the Nordstrom perfume section. Ulta is a new favorite stop. I inspect packaging, scents, and customer testimonials. I love knowing how the products are made and their sometimes glamorous histories. And I also always love local boutiques for harder to find products, which in Providence means stops at Queen of Hearts and Modern Love and Nava Boutique (soaps and essential oils galore).
If I'm being totally honest with myself, I'd love to be a fancy lady, and a lot more put together than I am on a regular basis. My addiction to beauty products allows me to take a glimpse into that beautiful world of "fancy," which I admire but am just a bit too tired to embrace as a whole. And it's always exciting to open up a new jar of cream and think that magic may happen when it touches my face. But really it's all about feeling good and being a little more excited to face the day than when I first hear the alarm go off. It's like having an accessible touch of easy magic at my fingertips.
Jenny Brown
www.jennybrownart.com
More About Jenny
Jenny Brown is visual artist living and working in Providence, Rhode Island, whose primary mediums are drawing, collage, and works on paper. Her work brings to life a mythical world of sea creatures and celestial beings, realized through her love of paper ephemera.
Her recent collage works focus on a dream of representing harmony amongst different elements of the natural world (flora, fauna, the moon, the sea). An abundance of flowers in the work represent the hearts and souls of these fantastic creatures. Branches and tentacles share their yearning to be connected to the most basic elements of life which created them...the cosmos, the oceans, the skies.
Jenny studied art at Bennington College and received her MFA from School of Visual Arts in New York in 2005. She was a guest this spring on The Jealous Curator's "Art for Your Ear" podcast, as well as a featured artist in Create Magazine, and "The Handmade Life," published by Thames & Hudson. Her work is currently available at Collier West in Brooklyn, NY.