Is Your Eyebrow Game Strong?
In case you didn't get the memo, good looking brows are more important than ever these days. Not to mention the fact that your eyebrows frame your entire face and if shaped & filled in correctly, they can make you look even prettier and possibly more youthful as well (Or so I hear. Wink.). If done incorrectly? It's disastrous.
Oh yeah, you get extra points if yours are thicker and fuller too.
Don't blame me for that! Blame supermodel of the moment with some pretty strong brow game, Cara Delevigne:
Sure this all seems pretty straightforward. But it's a problem if - like me - you've plucked and basically over tweezed your brows for ages and are now not really sure if they're mapped correctly or what. **Sigh** I used to have extremely thick brows. Cara Delevigne-esque if you will. That's where I started from.
Don't believe me? Here's a vintage pix of me and my real brows:
So, a few days ago, I was intrigued when Nicole approached me and told me about how she had seen a friend of hers and said friend looked absolutely FANTASTIC. (Here's where it gets good.) When Nic told her how fantastic she looked, she confided to her that it was because she'd just had her brows done at the Benefit Brow Bar at Ulta in Smithfield. (FYI: Their Rt 2 Warwick location also offers the Benefit BB.)
Ok, now at this point, Nicole swears me to secrecy (aka, I better not posting anything on FB or Instagram about this!) until we can get ourselves there and of course, later, blog about the whole thing.
We got there yesterday. (Yes, good brows matter a lot to us.) and were super impressed with the store (bright and cheery) and Emily, the Benefit Brow Bar brow shaping guru, who helped us. (We went for what's called The Brow Arch, their signature brow waxing, but you could also go for brow tinting, facial waxing or lash application.)
Nicole went first. Here's a few behind the scenes shots of Emily reshaping her eyebrows and the FANTASTIC results: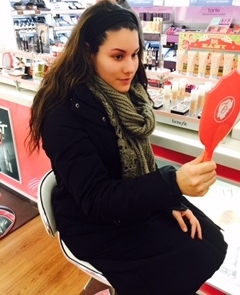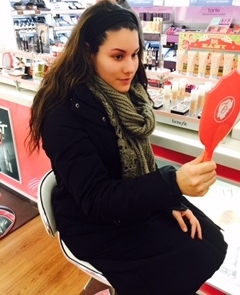 Now, despite seeing Nic's newly re-shaped brows, you may still want to know MORE specifics of how Emily works her magic before committing to anything, so here goes:
1. First, Emily starts by mapping out where your brows should start and end, as well as where your arch should be. Using your eye as a guide. (You should know that if your brows are the right shape and thickness, your eyes will stand out more. In a good way. Who doesn't want that?)
2. Then, after mapping and marking, Emily uses wax to strategically remove hair. The right amount from the correct spots. That's key. (Anyone who's ever had a bad brow shaping knows how crucial it is to have someone you trust waxing your eyebrows.)
3. Next, she plucks away strays and trims any longish hairs. (For the record, we've all got those.)
4. Finally, she fills in your brows with the Benefit's Brow Zings kit and adds a touch of Benefit Boi-ing concealer to the surrounding area to cover any (short term and temporary) redness. (Listen, have no fear: No one has more sensitive skin than I do and by the time, I hopped into my car, there was not a sign of redness around my brows whatsoever.)
*Btw, Benefit offers multiple options product wise for filling in and setting your eyebrows, including their Brow Zings kit and Gimme Some Brow gel.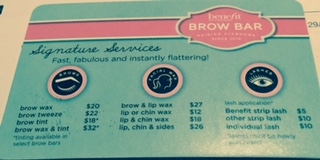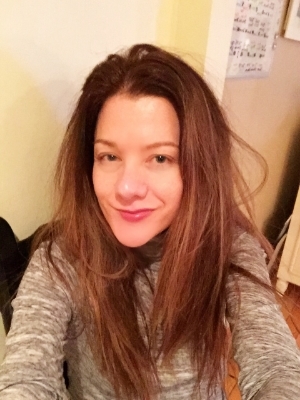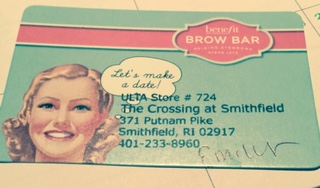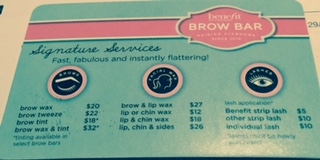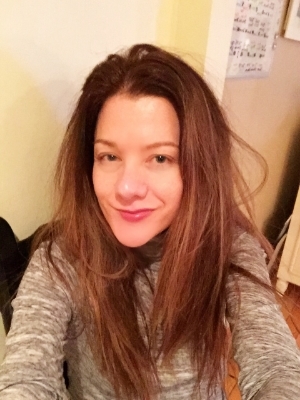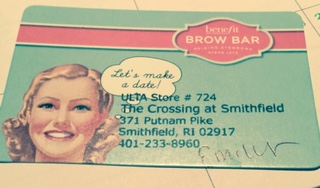 With our brows done, we were free to browse the unbelievably extensive selection of Benefit cosmetics. So many choices! Nicole is a huge fan of the line and I do love their concealers. We left with Erase Paste, one for each of us (Tip: You can NEVER have enough under eye concealer options in your makeup bag, especially when you're up past midnight blogging "like" all the time.), Benefit samples (I heart samples!) and Emily's card in our shopping bag. All in all, a productive afternoon.
PattyJ
PS - Find Emily at the Ulta store at 371 Putnam Pike, Smithfield, RI (401) 233-8960