All Hail The Queen Of Everything
Today is the birthday of The Queen, Nicole Johna.
To kick off this day of national celebration, I have a few of her favorite things for you:
Does She Coffee Or Tea?
She's an admitted Iced Coffee-aholic. She also likes her Hot Water w/Lemon (She drinks it because it's anti-aging, even though she's only 23.) and all different kinds of tea. #HelloGorgeous
Find these at Starbucks in Garden City and the Whole Foods GC's wall of tea (Cranston, RI)
Eats:
Twin Oaks in Cranston - She can't get enough of their salad dressing, calamari and famous chicken parm.
Garden Grille in Pawtucket - She's borderline obsessed with their nachos. (And "they" have been known donate to local animal shelters like PARL, which is a big plus. #AnimalLover)
Nino's Pizza on Atwood Ave in Cranston - Her all time favorite restaurant and place for "splurge" (or cheat) food. She says you should go and order their buffalo fingers along with a pizza, cooked well done. And remember to tell 'em Nicole sent you. <You're Welcome.>
Makeup:
She doesn't like to look too made up, but she still lives to buy and wear makeup. (Hey, #Sephora) She's a super fan of Benefit foundations and face powders because they give good coverage (#FPimples) without looking too heavy on the skin. She also favors lipstick by MAC (She gravitates to reds.), Nars' Orgasm blush (their #1 seller btw) and Anastasia BH DIPBROW.
Uses For Zits And Stuff:
Clarisonic, GlamGlow Mud (inspired by PattyJ.com), Murad, Dermalogica, Philosophy and Clean n' Clear (which she says works really, really well).
Personal Inspirations: Brianna Tutalo (sister), Sandra Tutalo (mom) and Gracie (cousin)
Fashion/Style Inspirations: Brianna Tutalo (Again!), Phoebe Steinberg, Davina Ohanesian (aka, Cranston's 'It Girl'), Laina and Tayla Forleo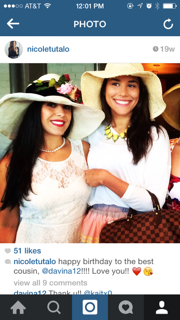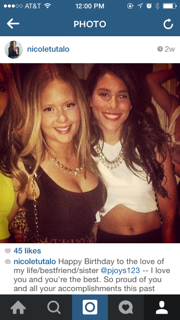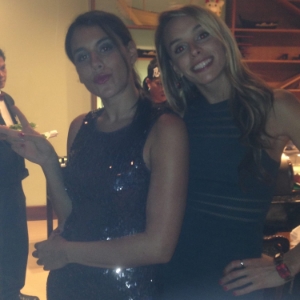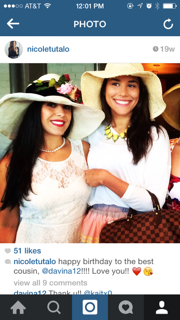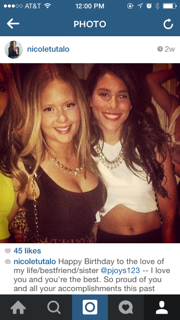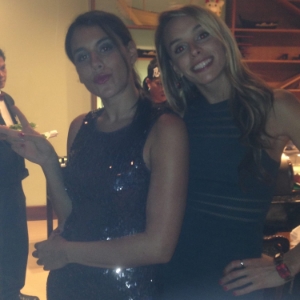 Nicole always says "J.Crew Jewelry Defines Her" (as you can see from her Instagram above) and if not shopping at Garden City Center, she buys all her clothes online. #NastyGal, #Tobi, #Anthropolgie, #FreePeople For everyday though, she's usually wearing gym clothes from Lulu Lemon, Gap Body, Athletica, Old Navy or Anthropolgie Fit (I hear their legging are A-MAZING actually.).
Stays In Shape:
Body Complete in Cranston, ILoveKickboxing.com and she's also taking private boxing lessons, inspired by model of the moment and daughter of Real Housewife Of BH Yolanda Foster, Gigi Hadid (On a related note, is Gigi everywhere now or what? Other models you can't avoid even if you really try: Cara Delevingne, Kylie Jenner and Kendall Jenner.)
She's also anxiously waiting for Real Ryder Bikes to come to R.I. (in March). Find them (and Nicole) at NiceLegs Exercycle Studio opening in Chapel View, Cranston. Make sure to check it out!
Fun Facts
She makes the World's Best Cup of Coffee. No kidding.
She graduating from URI in May with 2 degrees and a 4.0 (GPA).
She's also applying to schools to pursue a career in Nursing, in hopes of becoming a pediatric nurse practitioner.
Celebrity People Say She Looks Like:
Happy Nicole's Birthday To You,
PattyJ
Photo Credits: Gigi Hadid boxing, courtesy of Vogue.com; Eva Mendes pix, courtesy of Pinterest