From Bras To Bars: Drinks & Clinks At The Olneyville Speakeasy
A little late to the party on this with some of you (more about that in a sec), but did you know there's a bar in Olneyville disguised as as a lingerie shop? Look for the red brick building with two scantily clad mannequins in the window. There's no signage of any kind, so don't even bother. (Signs are apparently for squares and so five years ago.)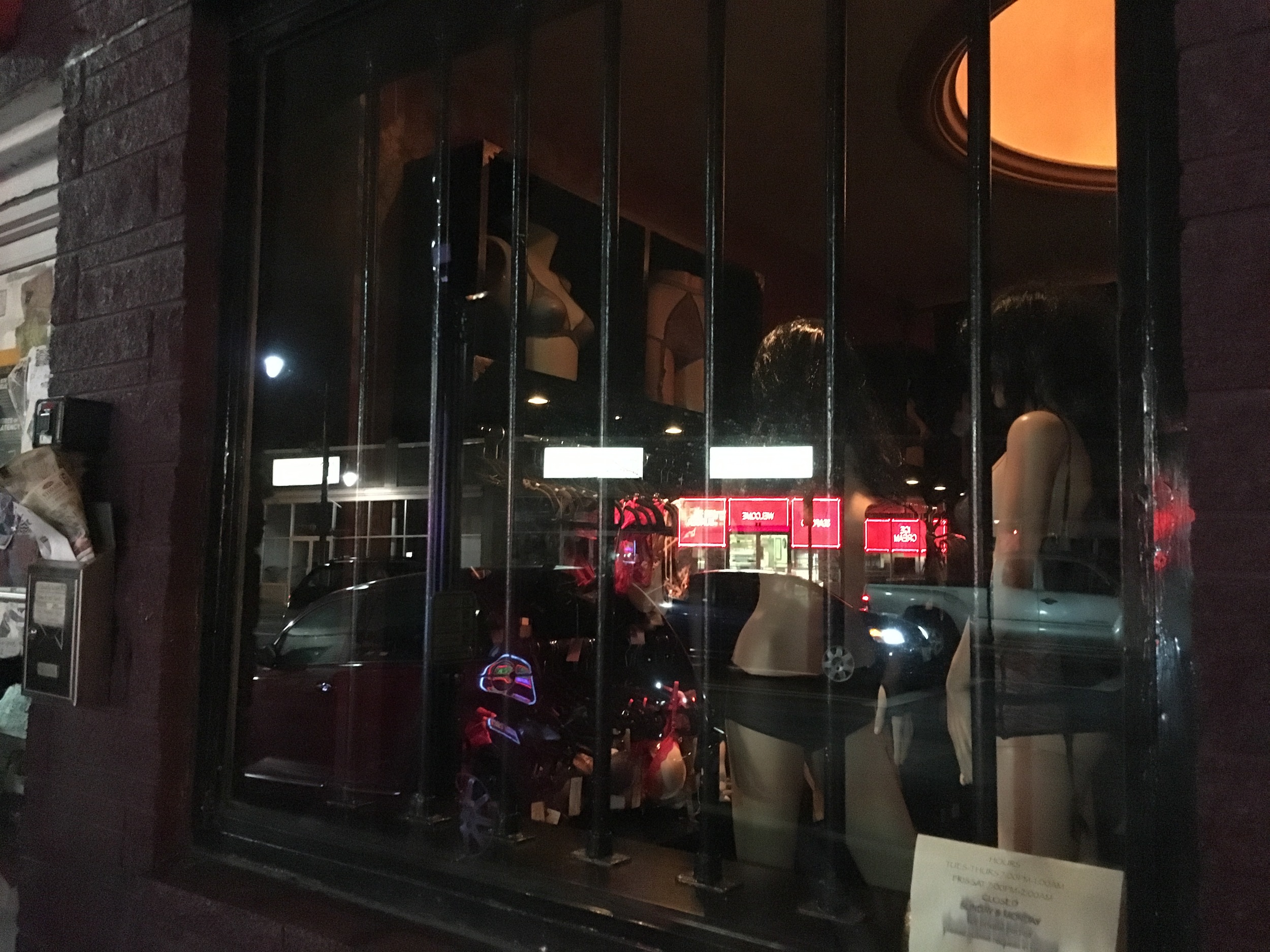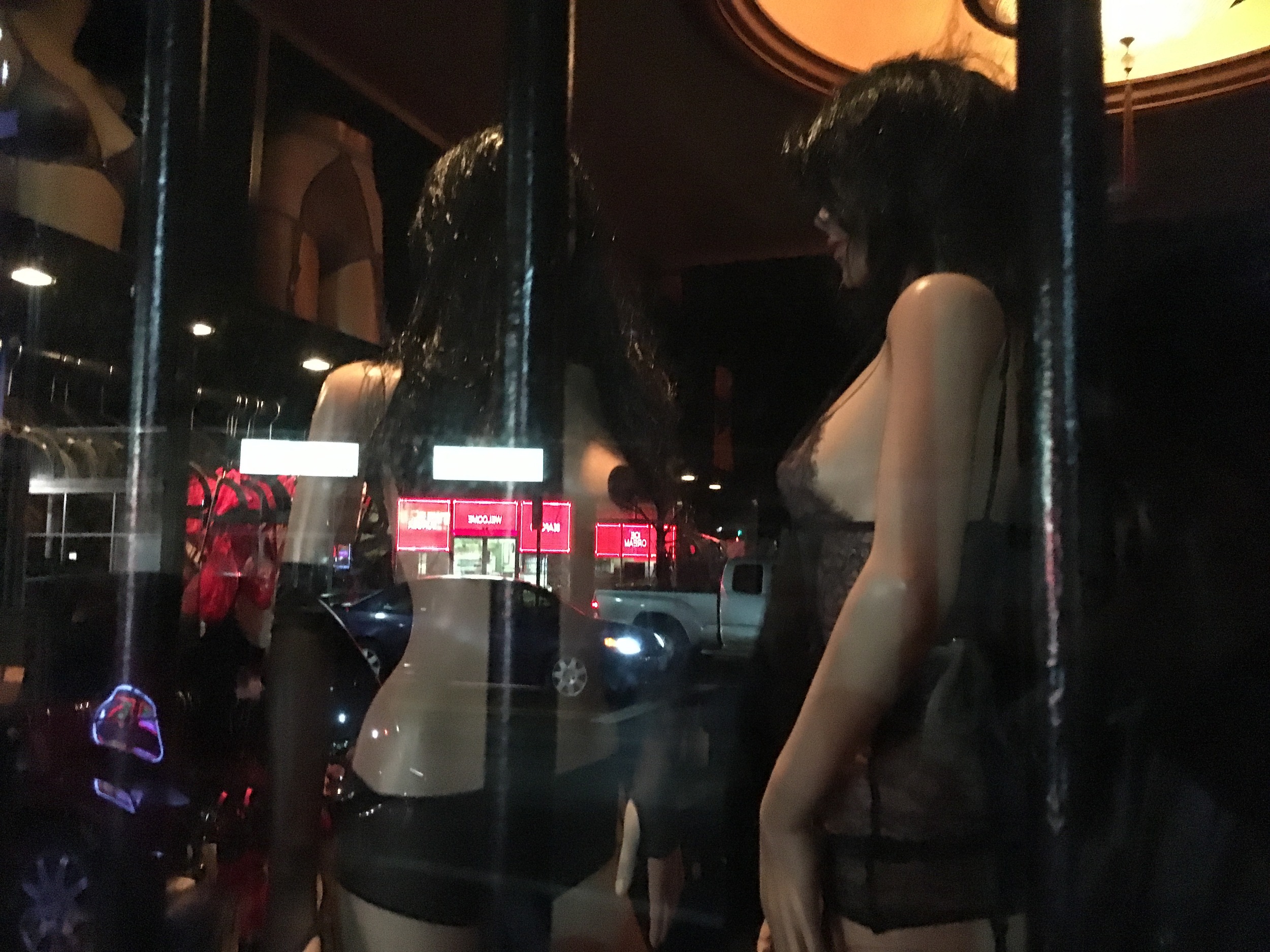 Last night, after the final Gallery Night PVD of the season and a pit stop at Ogie's on Westminster where you will find some of the most outstanding (tater) tots around, I managed to convince everyone in my group to help me find this speakeasy that's an open secret among the PVD in-crowd (Don't kid yourself - it totally exists.). It must've been a combo of the tots, followed by my offer of FREE drinks that sealed it because next thing I knew we were back in the car, searching for parking in the middle of Olneyville Square. And yes, not gonna lie or sugar coat here, parking continues to be a big problem-o for anyone wanting to venture out of the burbs and try a new spot in the cap city. My best suggestion is to make sure you have someone in your group who's a highly skilled parallel parker (I am not.) or Uber it. (We lucked out and found parking a few feet away, which I doubt ever happens on Friday or Saturday nights.)
Before walking thru the door at Justine's (Only reason I knew the name is because my friend Alexandra had clued me in and I verified it via the FB Check-In feature on my phone.), my go-to photographer decided NOT to bring his camera into the bar...because #truestory hipsters frown on cameras. In a serious way. Also, the lighting is dim and not exactly conducive to picture taking. Just as it was in The Magdalenae Room at The Dean (Almost sure it's the same owners and interior designer).
But back to the entrance...Here's where you have to play it cool and NOT spaz. Because at this point, you're not walking directly into the bar itself. Nope. You're walking into a small, dark room with those same two mannequins and a completely legit looking display of racy bras, underwear, and pantyhose. And a quietly intimidating gentleman behind a desk who says nothing. Until you say "hey" (to him) and head for the black curtains (behind him and where you'd heard the actual bar is). Then he stops you, asks for ID's, and proceeds to scans them with his flashlight. #DontSayIDidntWarnYou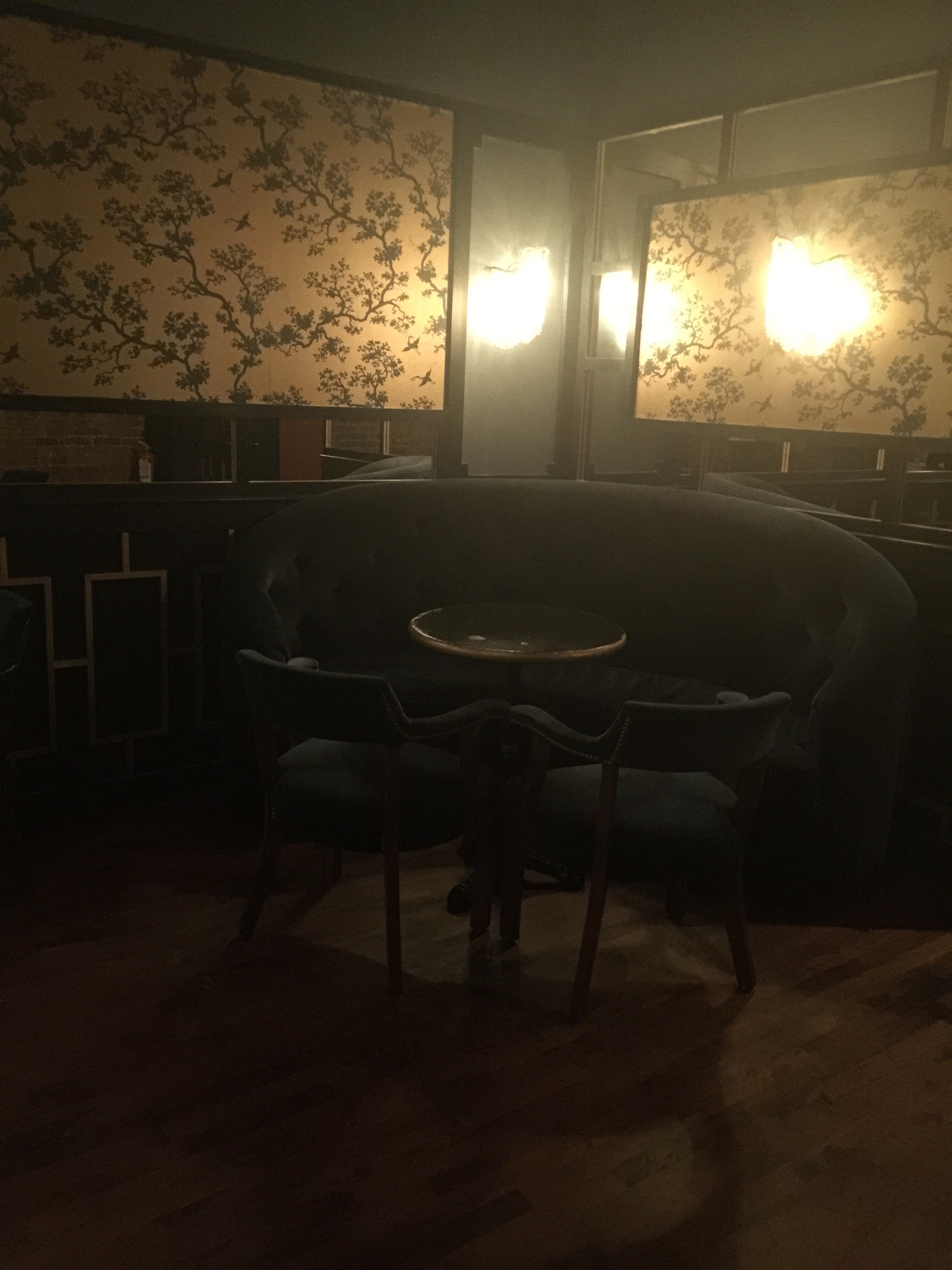 Once you've made it past the door guy, you're home free and get to see the bar room which truth be told, does not disappoint. It's faithful to the retro speakeasy type vibe, from the dark green leather upholstery on the bar stools to the vintage-looking light fixtures to the drink menu and the old school glasses those drinks are served in (Like that entry way with the black curtains, the glasses are definitely small-ish, but that's not a deal breaker in my eyes.) You also get to see plenty of bearded hipsters (I personally have never seen so many in one place in my life. I swear. And remember I said hipsters hate picture taking? The beard sporting, flannel shirt wearing bro next to us at the bar seemed quite unhappy with us for trying to snap pics of the interior with our phones. Too bad, so sad pal. ) and a not-so-talkative (Taciturn!) bartender, which I've come to realize is another key component of any bar that tends to attract 'the beards'.
So, yeah, everything I said about The Magdalenae Room holds true here as well: Do take someone you want to impress. (Speaking of which, pretty sure I saw someone I used to work with on the other side of the bar, chatting with a date.) Don't take that one friend who drinks and gets all Chris Farley-esque on you because it's so not that kind of place! Think quiet, low key, thoughtful, stylish. And bearded.
*Our post about The Magdalenae Room at The Dean Hotel: http://www.pattyj.com/full-blog/2015/11/15/the-deans-list-the-magdalenae-room
Ciao for Now,
Patty J
Photo Credits: All photos courtesy of Richmond Jeffrey. Find him on Instagram as @EndlessTunnels.