C'mon Get Healthy: What To Wear For Your Workouts
Nicole says (the 20something take):
My obsession began when I happened to be at the GAP, looking around their Gap Fit section and instantly fell in love. #NotKidding
If you haven't checked out Gap Active Wear, do yourself a favor - GO.
My favorite picks there are
everything...
No. But really. From their sports bras to their long sleeve shirts (great for this effin cold weather) and pants, which reminds me - Check out the NEW ARRIVALS section and the 'GapFit gFast cuffed leggings' . Highly recommend. They are awesome. And I might have even picked out the pair PattyJ's wearing.
Also, while you're there, grab one of their All Weather Running Jackets. If you wear gym clothes almost everyday like me and live in a place that's been hit with tons (no seriously, TONS) of snow like me, then this jacket is perfect. It's actually a must...Want to know why? It's water and snow proof. So you can justify your purchase because of all the blizzards and bad weather we've been having - WAIT, did I mention it's on sale??? Yes, it's on sale for $29.99. #GapFitLove
Another reason to shop Gap for active wear - GAP CASH. If you're a college student like me and you're broke like me (or if you're just ballin' on a budget), then GAP CASH will save you and save your money. #Shoutout and mad props to the genius behind it.
Remember, I told you about it first.
xo,
Nicole
PattyJ says (the NOT 20something take):
I've always had more of a hate-tolerate relationship with my body.
Really hated it back when I stopped exercising completely and started eating crap almost exclusively. True story (although no one who knows me these days believes it), I was probably at least 20 lbs heavier back then. And I felt crummy around the clock. Non-stop. Sluggish. Bloated. Headache-y. (Is that even a word?) I also would NEVER have worn a pair of leggings.
OK, maybe under a skirt or a dress.
Sounds fun, doesn't it?
Yeah, so once I started moving again (vinyasa yoga, hot yoga, cardio and of course, Pure Barre) and eating healthier (Full Disclosure: It's easier than you might think to switch from compulsively shopping the mall to compulsively shopping the local neighborhood Whole Foods.), I realized I needed nice workout clothes (and maybe I didn't hate my bod anymore either). Mine looked shabby and I was beyond embarrassed to be seen in them.
That's when I found Gap Fit and got hooked.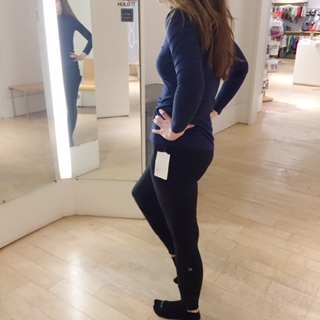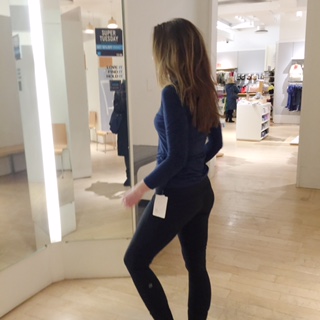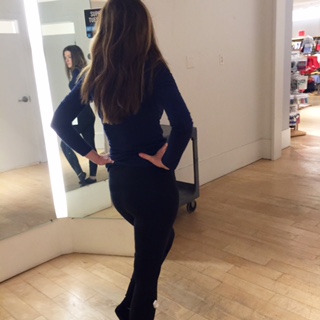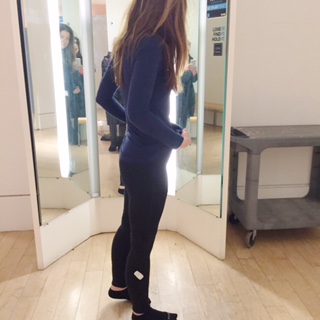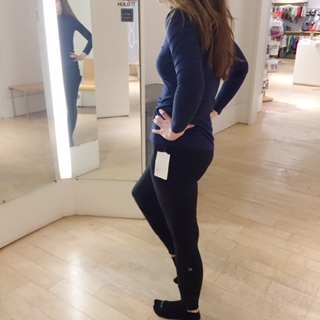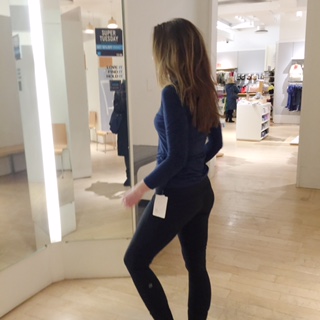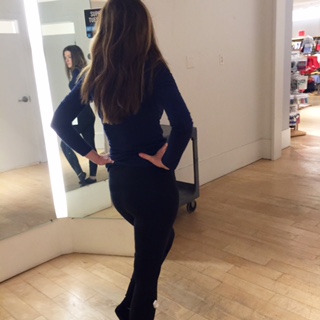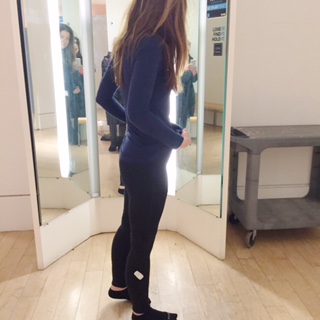 My favs are these GapFit gFast Cuffed Leggings (which, for the record, Nicole did find first) I'm wearing here as well as their classic GapFit gFast leggings in black. They fit (Get it? GAPFIT) and wash so well that they'll make a fan out of you. Another reason to start coveting their workout clothes? Many styles, including these Cuffed Leggings for $59.95, are usually under $100. Uh, yay. Full Disclosure: I HATE to pay over $100 for a pair of workout pants.
Need more proof? One of my sister-in-laws buys most of her workout clothes from Gap. She's a serious fan. She also has pairs of their workout pants from 3, 4 and 5 years that still look like new. I rest my case.
Smiley face,
PattyJ
PS - I don't always ask Nicole to take pictures of me modeling clothes in fitting rooms - only when it involves the blog. 😉