Short Cuts: 3 Ways To Look More Stylish This Spring
This winter, I lived in dark skinny jeans, boots and grey or black turtlenecks. My niece told me a bazillion times that I dress way too boring to be a fashion blogger. No problem, I said, because this is a lifestyle blog.
Winky face.
Now, since Spring's almost here (less than 2 weeks, but who's counting), I am thinking about adding a few new pieces that deviate from the Winter 2015 uniform. #OverIt #Yawn
My Inspiration? None other than Jenna Lyons, J.Crew's President and Creative Director, who pretty much made it into the cult brand that it is today. Yeah, like so many other people, I'm a total fan of just about everything she wears, on and off the red carpet.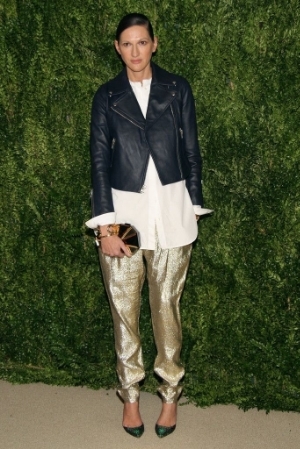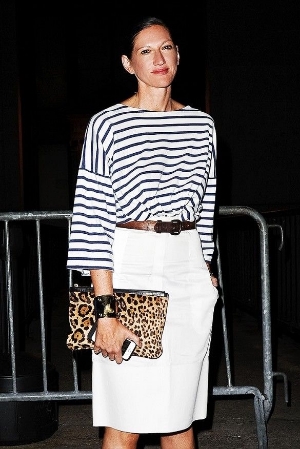 Here are three of my favs right now from J.Crew, all available online btw. They're definitely Jenna-esque, but they also easily and affordably add tons of style to your existing wardrobe:
1. Embrace Your Shine.
One of Jenna's signatures is mixing dressy with casual, many times in extremely unexpected ways. She's not afraid to wear a cashmere v-neck sweater back to a long feather skirt on the red carpet. (See pic above.) Or sequins and animal print for daytime. That being said, the shine makes this pleated midi perfect for cocktails or guest of the wedding, but you (and I) could wear it during the day with a fitted t-shirt or tank and some wedge sandals and be be stylin. (Only wear flats with a midi if you're supermodel tall please.)
Tip: Find ways to wear your dressy things for non-dressy occasions whenever possible. It's called maximizing your wardrobe. And it's also called being smart.
*There's also a striped (Stripes are another Jenna signature!) version of this midi and get this - the stripes are vertical, which you rarely ever see. Vertical of course = slimming. I'd buy it for that reason alone.
2. Chambray Meets Blazer. Awesomeness Ensues.
Jenna is known for wearing blazers all the time and with just about anything. (See pic above of her with the iconic Iris Apfel.) I'm on board with that. Big time. Especially when it comes to this particular one. First, I could wear this back to all my cargo pants and bermudas or ratty jeans and it would instantly make me look cooler. Maybe even like a fashion blogger. (Hear that Nicole!) Blazers have a way of doing that. Second, this one is light enough in color (Full Disclosure: I already own a closet full of black and navy blazers and sometimes, they just feel wrong or too country club stuffy.) and weight for Spring in NE temps, but will still keep me from freezing in the a/c. No lie - I'm pretty much freezing 24/7 year round.
3. Color is key. Seriously.
Want to make people think you put a lot of time and effort into your outfit? Skip the neutral shoes and add a pair in a bright color, like these turquoise suede kitten heels. (See photo above of Jenna in her green pointy toe heels.) Mark my words, people will compliment you non-stop. Same also goes for handbags. Wear a bag in a bright color back to a neutral outfit or ratty jeans and you'll get lots of attention. For all the right reasons.
Hint: Make sure your kitten and other heels have a pointy toe. That's the secret to making you look taller and your legs look longer. I mean who doesn't want that?
And it just so happens that J.Crew is having 25% off much of their Spring for the next 48 hours only - That would be today 03/09/15 and tomorrow 03/10/15.
PattyJ
Photo Credits: All Jenna Lyons photos found on Pinterest; additional images courtesy of J.Crew.