Summertime Beauty Prep: Foot Rehab
Hating your feet right now? Check out today's guest blog from our old friend - beauty blogger and all around awesome individual, Samantha Rei.
Summer is on the horizon and you know what that means: tank tops, shift dresses and sandals - so many sandals. I was too busy freshening up my ombre color and revamping my tank top collection to notice that this past winter has left my little soles traumatized.
I don't know about you, but my feet are NOT my best feature. Between May and August you can find me religiously pumice-ing my heels and applying LIBERAL amounts of moisturizer to prevent cracking and over drying (You know what I'm talking about.).
It wasn't until a couple weeks ago when my Fiancé and I were rock climbing, that I noticed just how sad and defeated my little tootsies looked. I knew, right then and there, that I needed a fix – there was no way I'd let myself slip on my favorite pair of Rainbow Sandals with my feet looking this haggard. Fortunately for me (and you), I came across one of LUSH's most coveted foot masks, "Volcano."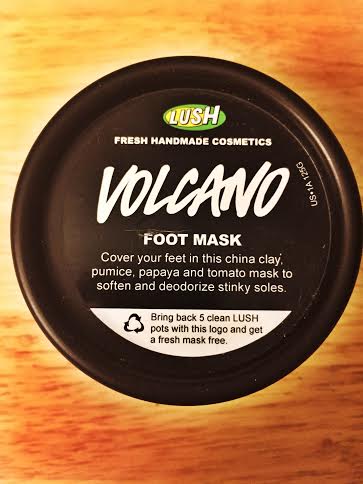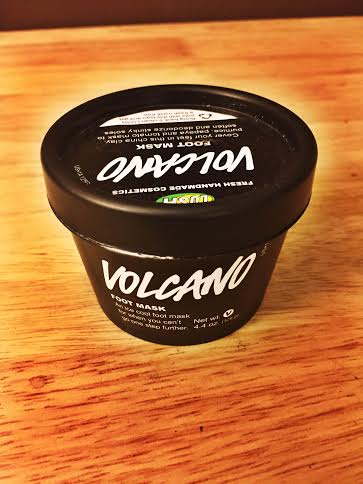 I like to think of this foot mask as my savior – with as little as ten minutes, I saw a huge difference in my soles and I just had to share.

This little hero's ingredients include: Pumice (Goodbye dead skin.), Kaolin clay, Tomatoes (Deodorizer, woo!), fresh Papaya (Yum.), and a few more wonderfully soothing components. With these foot-fighting ingredients it's no surprise that my heels felt significantly smoother and, to be honest, smelled fantastic.
The way I suggest using the mask is as follows: Prep two sheets of saran wrap about 12 inches in length. (For you lazy-doodles out there, you can use plastic shopping bags.) Keep the sheets (or bags) near by. Next, apply a generous amount of the "Volcano" mixture to the sole of your foot.
TIP: Don't be afraid to get in-between your piggies.
Once you've finished applying the mask, tightly wrap your foot with the saran wrap (or bags), then proceed with an application to your second foot. Once you're wrapped and ready to go, set your timer for 10 minutes.
I like to use this break to celebrity stalk, drink wine, or go on a Pinterest rampage.
Once your 10 minutes are up, cautiously, walk yourself to the tub and rinse!!! Remember, there is pumice in the mask; massage each foot as you rinse to be sure you've removed any unwanted dead skin.
For more information on LUSH's "Volcano" mask, my new best friend, click here: LUSH Volcano Foot Mask.

More About Samantha Rei
Name: Samantha Rei Medeiros
From: Boston, MA
Site: Find her at SamanthaSays.com or on Instagram @samantha_rei
Likes: Puppies, everything chocolate, candles, spinning, and coffee scented anything
Dislikes: Rude people, bad haircuts, "recreational jogging" (I only run when its for my life.), and indecisiveness
Zodiac Sign: Libra (I'm terribly indecisive)