Thirsty Thursday: All About Isle Brewers Guild In Pawtucket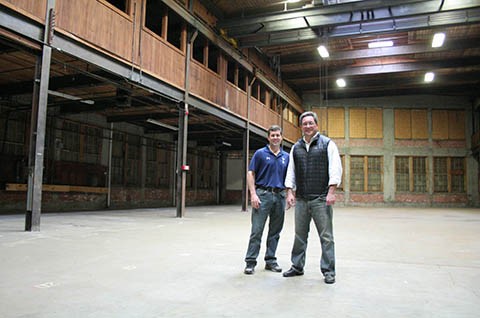 Isle Brewers Guild is not a label you'll be peeling off your IPA anytime soon. However, it is one you should make yourself familiar with. Co-founders Jeremy Duffy and Devin Kelly are currently laying the groundwork for something you will hear a lot about soon. They are creating a partner brewery intended to help local midsize and larger craft breweries take their passion to the next level. These longtime friends have a plan for this collection of brick and mortar. Not only will IBG initially have the ability to brew 60,000 barrels, but it will also handle the packaging of kegs and cans, aging, a large-scale cold storage, laboratory services, and a 4,000+ square foot retail space. The icing on the cake - a beer hall where you will be able to sample selections from some up and coming craft breweries.
But that's just the beginning. Jeremy and Devin also intend on hosting festivals and educational courses centered around the art of craft brewing. Now let's just take a minute to focus on that. Right now, when Saturday rolls around, most of us might take in a movie or play. Dinner downtown or on Hope Street. A lot of us will probably head up to Boston for something a little broader. With The Guild though, why waste beer money on gas or the train? Not even five minutes from historic Pawtucket and The Gamm Theatre will be a shining oasis of gorgeous hops.
I was lucky enough to be taken on a tour of the site by the partners on a sleepy Tuesday afternoon. Walking past the mixture of freshly renovated space and preserved exposed brick, a single thought kept coming back to me - These are just the bones of what will border on a revitalization for this neighborhood. The two are moving fast and plan on being ready to run test batches by mid-December. An idea that was almost lost to the brutal hand of fate. Jeremy and Devin had been three weeks away from purchasing a different warehouse near the Steelyard, that was until the building burned down to the ground. Perseverance and confidence in their dream allowed them to push forward and, with help from the mayor, deliver Isle Brewers Guild to us.
Great potential rose from those ashes. Because make no mistake The Guild will not end up as just another brewery or venue, not that anyone could confuse it for one. Most breweries, including some of the dozen or so in RI, find themselves in an awkward spot eventually. Expanding your facility can be expensive and often takes a delicate hand balancing the budget. Jeremy and Devin are delivering the square footage and the tools to take what already is and make it what could be. This frees up the brewmasters to simply increase their production volume, produce their most popular brews while they having the space to experiment with small batch varieties.
The 10,000 square foot brewhouse is clad in original brick and weather wood. It will soon have brand new windows, a 100 barrel system to start, fermentation tanks that stretch to the ceiling, a mezzanine for private parties, and more, all facing Pawtucket's Main Street. For a city once made by the same mills and factories that now scar its streets with blown out glass and abandonment, Isle Brewers Guild represents a new renaissance. Alongside The Guild and a slew of craft breweries, The Gamm, Hope Artiste Village, The Pawtucket Arts Festival, The Met, and numerous New York style loft buildings, Pawtucket has come a long way in recent years.
Some of you may already have heard of The Guild, but for a slightly different reason. Recently Narragansett Beer moved to the 461 Main Street campus. The popular company recently came back to Rhode Island after a long hiatus of proprietorship out of state. Now back home, they work closely with Jeremy, Devin, and the other members of Isle Brewers Guild.
Devin, formerly with InBev, has spent years internationally and locally exploring the world of making and selling beer. Jeremy was previously steeped in the world of marketing as a former partner at Duffy & Shanley. Both were friends and beer lovers and after taking their own journeys, began bouncing ideas off of each other. There are obviously other members of the team I did not have a chance to meet, so please visit their website to see everyone involved. Spending time with the two, you cannot help but be swept up in their excitement and imagination for what is being created. Walking around with them felt like walking through history while it was being written.
Related Links
www.islebrewers.com
www.facebook.com/IsleBrewers
www.twitter.com/IsleBrewers
For More From Colin
Colin Carlton
Author
www.colincarlton.com
@ColinCarltonOfficial on Facebook
@colincarlton on Twitter and Instagram
Photo Credits: First 4 photos courtesy of Isle Brewers FB Page; additional photos by Colin Carlton