What's The Scoop: Let's Go For Ice Cream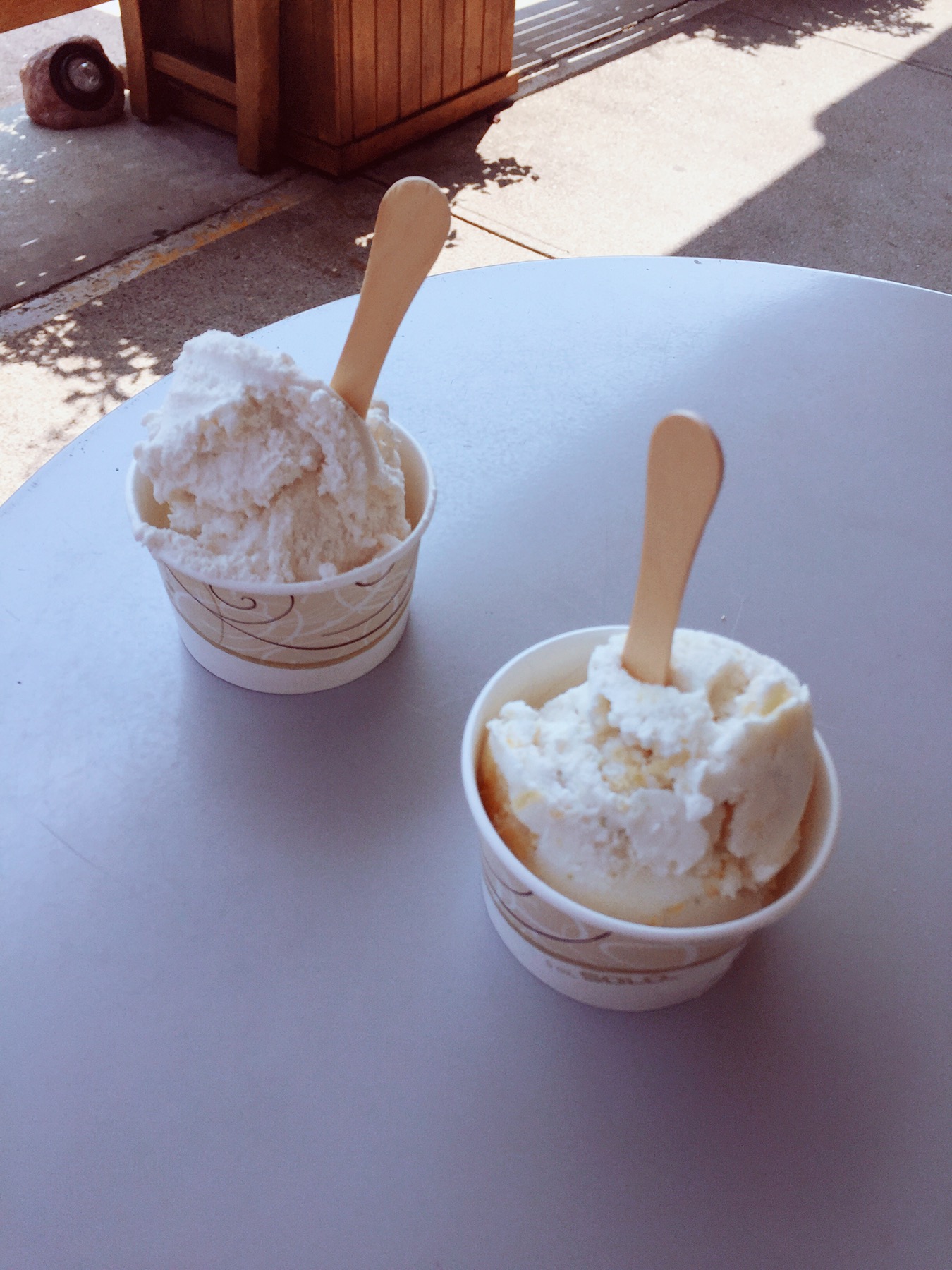 Ice, Ice Baby...
There's no law on the books that says summer is the best time to indulge in ice cream in the OS, but come on, it is! It's really the whole experience - that scoop, or two, of your favorite flavor while you're sitting outside somewhere people watching or soaking in the (hopefully) mild temps. (Whether you're a native or you've been in RI for a while, you're probably well aware that summer's short and you'd better make the most of every single opportunity to thoroughly enjoy it.)
First stop - Three Sisters on Hope St. We were there last year for a tasting and truthfully, I'm not and never have been a fan of mint flavored anything and I adored their dirty garden mint ice cream. Pinky swear. Now, I made a trip back recently and can say with absolute certainty that their (house-made) fair trade coffee flavor is life changing. And I had their ice cream for dinner that night, which I'm HIGHLY recommending you do at least once this season.
Another new-ish, in these parts anyway, food trend I'm currently #obsessed with, and that I hope is here to stay, is vegan ice cream. Work with me now! Last week, I had the vanilla at Wildflour in Pawtucket (Their outdoor patio is a perfect place to hideout mid-week btw.) and can't stop gushing about it. So tasty it could fool even that most persnickety person you know who turns up their nose at the mere mention of the word VEGAN. Seriously. It's also fab for anyone out there who is lactose intolerant and has major probs digesting traditional ice cream. (For the record, there's nothing remotely fun or stylish about being bloated and gasey.) That being said, Like No Udder, which up until this year was strictly a food truck/mobile operation, has added a brick & mortar shop over on Ives Street with outside seating and lots of options, from soft serve and hard ice cream to shakes and cold treats for dogs (because circa 2016 dogs are THE new kids, right?) And speaking of LNU, one of the contributors to the blog this week (Watch for his post on Thursday - something a little different for the blog but wicked helpful and insightful!) swears by their cashew milk almond joy flavor, which I'm going back to try ASAP.
*Wanted to include Tricycle Ice Cream in this post, but when I made a return trip over to The Providence Flea looking for them yesterday (Been yet? If not, better G-O. Primo destination for people watching, food trucks, and vintage finds.), they were nowhere to be found. Another reason to stop looking for Pokemons and start channeling your energies into tracking the guys behind Tricycle down because I hear their ice cream sandwiches are divinely delish.
Ciao for Now,
Patty J
Photo Credits: Three Sister sign and Patty J with No Udder soft serve ice cream courtesy of Ashley Farney, all other photos courtesy of PattyJ.com