3 Best Things About Staying At A Famous Spa & What I Won't Miss
A couple of years ago, I had the chance to spend a long weekend at a pretty well known spa and resort, frequented by celebs like Martha Stewart and Alec Baldwin (before he met and married his much younger, yoga instructor wife Hilaria, and dropped a ton of weight) looking to relax and ramp up the healthy. Never did get back there (sad face), but tbh, it did inspire me to stop living almost exclusively on cafe mochas, bread & butter, and madeleine (French butter) cookies.
With that adventure in mind, here are some tips for co-opting the spa experience at home, how-to's for changing things up and feeling way better, all without having to field endless questions from fellow guests about what you do for living (ughhh, almost as bad as being at an NYC cocktail party), where you live (ditto), and what brand of yoga pants you're wearing (Yes, THAT really happened, over and over again.).
1. Elevate Your Tub & Shower Time
Spas have amazing white robes and towels that make your usual shower or bath that much more relaxing. If yours are mismatched and dingy, donate them to a local animal shelter. One of my sister-in-laws gives all her old ones to the shelter where she and my bro adopted their dog. These organizations are always looking for old towels, blankets and sheets (still in useable condition of course) for both dogs and cats.
And you definitely don't have to be a millionaire to afford beautiful towels. I say some of Target's offerings are better quality than a lot of fancy schmancy department store brands I've come across. Also, as always, if you have the time, the patience and luck is usually on your side, stalking your local Home Goods is another option. They have been known to have some pretty fab ones on occassion
2. An Easy & Affordable DIY Treatment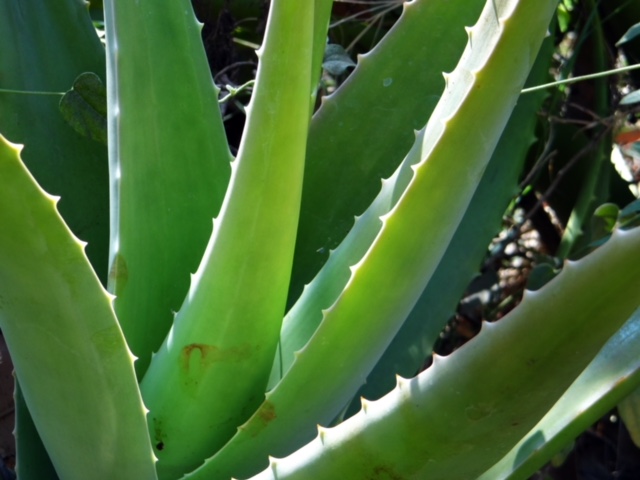 Spas and beautifying treatments go hand in hand, but those treats can be pricey, and take hours (#yawn). Here's a little something you can do at home on the cheap that doesn't take long and will make you feel almost like you're at a wellness retreat.
My local Whole Foods had a bunch of organic aloe vera leaves the other day, so I picked one up and stashed it in the frig for a day until I had a chance to research, aka, Google and watch YouTube vidoes, how one goes about cutting up one of these odd looking green thingies. (Click here for a quick demo.) Turns out, it's not so difficult - the thing to watch out for is the very real possibility of cutting yourself while extracting the aloe vera gel from the thick outer layers.
Once you've whipped your gel up in the blender, store in the frig in an air tight container (for up to a week or so) and mix with other ingredients later to create a mask. You can also freeze the whipped gel in an ice cube tray and use the cubes to spot treat any fugly breakouts that *might* pop up while you're PMS'ing.
3. Now & Zen
Every spa and retreat these days is probably going to offer yoga, a moving meditation, and meditation, a workout for your mind. But before you run out and put a meditation app on your phone, consider shutting down your phone (for a while anyway) and motoring over to the Providence Zen Center, a monastery in Cumberland, RI. They offer weekly meditations, retreats, and more. (Someone I used to know made a guy who had a crush on her take her there for their first date. Gotta love it!)
Patty J
Like This Post?
Share Away On Social,
With The Options Below.