5 Sensational Local Spots For Fresh Juice & Smoothies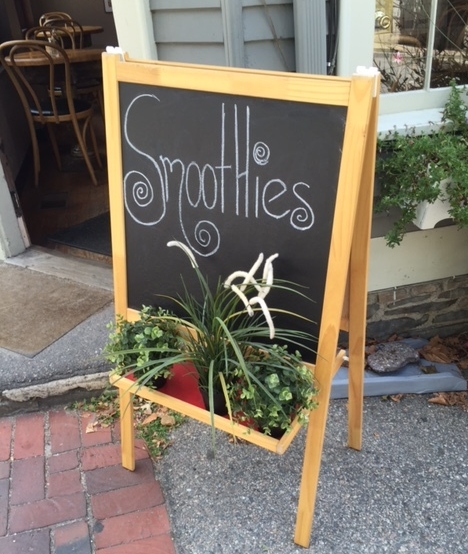 I don't care what anyone says or shares online. Whenever I add a fresh juice, or smoothie, into my daily rotation, I feel so much better. And notice a big difference in my skin. It looks healthier. Clearer (I tend to get ruddy. Trust me, over the ages of 10 or 12, there's nothing cute about a red nose.). Glow-y even. And who among us doesn't want that?
Think you can subtract that 2nd or 3rd coffee or soda, and add in a juice? Of course you can! The tricky part is actually finding the freshest, and tastiest, juices and smoothies. My pet peeves include watered down juices and faux healthy smoothies that taste like ground up, liquefied PEZ or Sweet Tarts. I also went completely out of my way the other day to try a new-ish place that turned out to be tres disappointing. So, won't be including 'them' here, but I am sharing my tried and tested favs for you to co-opt and enjoy.
Benefit Juice Bar in PVD There's something about being at Benefit Juice that makes me feel as though I'm at a friend's house. It just has this hospitable and unpretentious vibe that never gets old. I walked over from Downtown PVD recently, on one of those sunny days when you just can't help wanting to be outside, and they blended me up a nice Jazzy Beet. (Broken record time: Beets are anti-inflammatory and so great for your skin.) They also offer a punch card promo, which gives you that 7th juice or coffee FREE.
Maize N Manna Juicebar & Wholefoods in Westerly A few weeks ago, while exploring Downtown Westerly, I popped into MNM for a quick juice and was pleasantly surprised at its cozy interior and the fact that they let you create your own healthy concoction and choose from a variety of (mostly) local ingrediants. The only awkward part was when I asked the owner how long she's been there (thinking she was a newbie to the neighborhood) and she proceeded to tell me 3 years. Ooops.
Raw Bob's in EG Almost everyone thinks you have to go to PVD exclusively to get healthy drinks and eats. Not the case. RB has one of the more extensive menus of juices and smoothies in the entire Ocean State. And if you walk in and don't know what to order, they'll guide you thru your options or maybe mix up something custom. In addition, they offer wheatgrass shots, healthy snacks, and other to-go eats.
Shayna's in Wickford I'm such a fan. First of all, I absolutely adore Wickford year round. Shayna's only gives me yet another reason to motor over. In addition to delish drinks (I usually gravitate toward the Dr. Sig.) made quickly, you get an adorable, bright white, cafe cute interior with a blend of good music and lots of local clientele, all of which easily lends itself to some fab snaps for Instagram. They also have outstanding sandwiches, coffee, sweets, and during the summmer months, ice cream.
Wildflour Vegan Bakery & Cafe in Pawtucket True Confession: I have been known to drive across town to get a healthy beverage here. My juice picks at Wildflour include The Alkalizer, made w/apple, cucumber, ginger, lemon, cayenne, and The Ruby Tuesday, w/carrot, beet, parsley, spinach, celery, kale. My only complaint is that they seem to be getting busier and busier, which can mean taking my order to-go or in the milder weather, planting myself at one of their outdoor tables. They also have a punch card promo for juices or coffees. Ask about it when you go.
**This has been updated and edited from the orig version that appeared on this blog in April of 2016.**