This Food Truck Is Bringing Back The Dessert Trend You Used To Live For & It's (Still) Amazing
Before Sarah Jessica Parker and Kim Cattrall were feuding on Instagram, or Cynthia Nixon ever considered a run for Governor of New York, their HBO show, Sex & The City was helping launch some serious trends in the early 2000's. Nevermind shoes. I'm talking the Magnolia Bakery (Best title ever? "Cupcake Wars Or How 'Sex & The City' Ruined My Neighborhood", a diatribe against what the writer who lived in the West Village vicinity at the time called television tourists.) and cupcakes.
Of course, the cupcake (feeding) frenzy spread from NYC to the East Coast, and then, to RI. (It's my own personal theory that it takes approx 3 to 5 years for any given trend, whether it be food, clothing, what have you to hit here.) Anywho, cupcakes were mayyy-jor. Just about everyone had to have them. For photo ops. Birthday parties. After lunch photo ops with their bff's. Bakeries and cafes sprang up or pivoted menus accordingly.
Later, the era of the gourmet donut was ushered in. Not everyone saw it coming, but once it arrived, it meant long lines, thousands of donut porn shots on FB & IG, ppl feuding about who made the best ones (Dare I venture to say there's room for everyone? But full disclosure, I am a fan of the peeps at PVDonuts.). After donuts, came the bagel wave. Now, it's waffles. (Still trying to figure out how writing a glowing blog post about an emerging waffle shop in PVD resulted in them un-following me on Instagram? Anyone?!?)
So, cupcakes are back. Again. And I say this because yesterday in the frigid temps that we all thought (hoped and prayed) would have been long gone by now, we motored over to the food trucks at the Providence Flea (Shoutout to Prest-o Strange O Coffee, also there. If you haven't sampled their brew yet, you're missing out big time!) to check out the Lil' Nora Cupcake Truck. With several locations in Connecticut, and a cult following among lovers of sweet treats from the Constitution State, the mobile gives us RI'ers a chance to sample a more abbreviated menu. While their brick and mortars offer hundreds of choices, yesterday Lil Nora on wheels had about a dozen of their most popular mini cakes.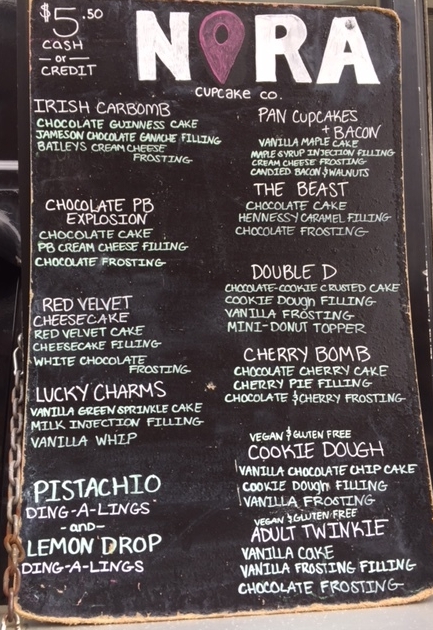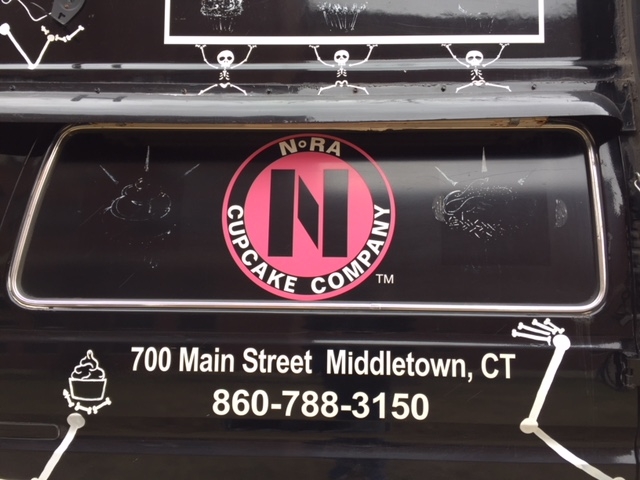 We tried 3 of their more traditional (I'll leave things like the Irish Car Bomb and their other signature cocktail cupcakes to the more adventurous of you out there.) offerings - the Chocolate PB Explosion, the Red Velvet, and vegan Cookie Dough. Happy to report that the cupcakes were ginormous, with a generous amount of frosting. My favorite was the Chocolate PB, with dangerously great tasting frosting, it most certainly lived up to the name! My runner-up would have to be the Red Velvet, equal parts moist (The only time the word moist is tolerable is when we're talking cakes or cake like desserts, k?) and delish. The vegan was unfortunately my least fav. The cake part was on the dry side, not sure if I'd order it again, but I would go back again for more for sure.
Photo Credits: Additional photos courtesy of PattyJ.com