Drinks & Clinks: The Eddy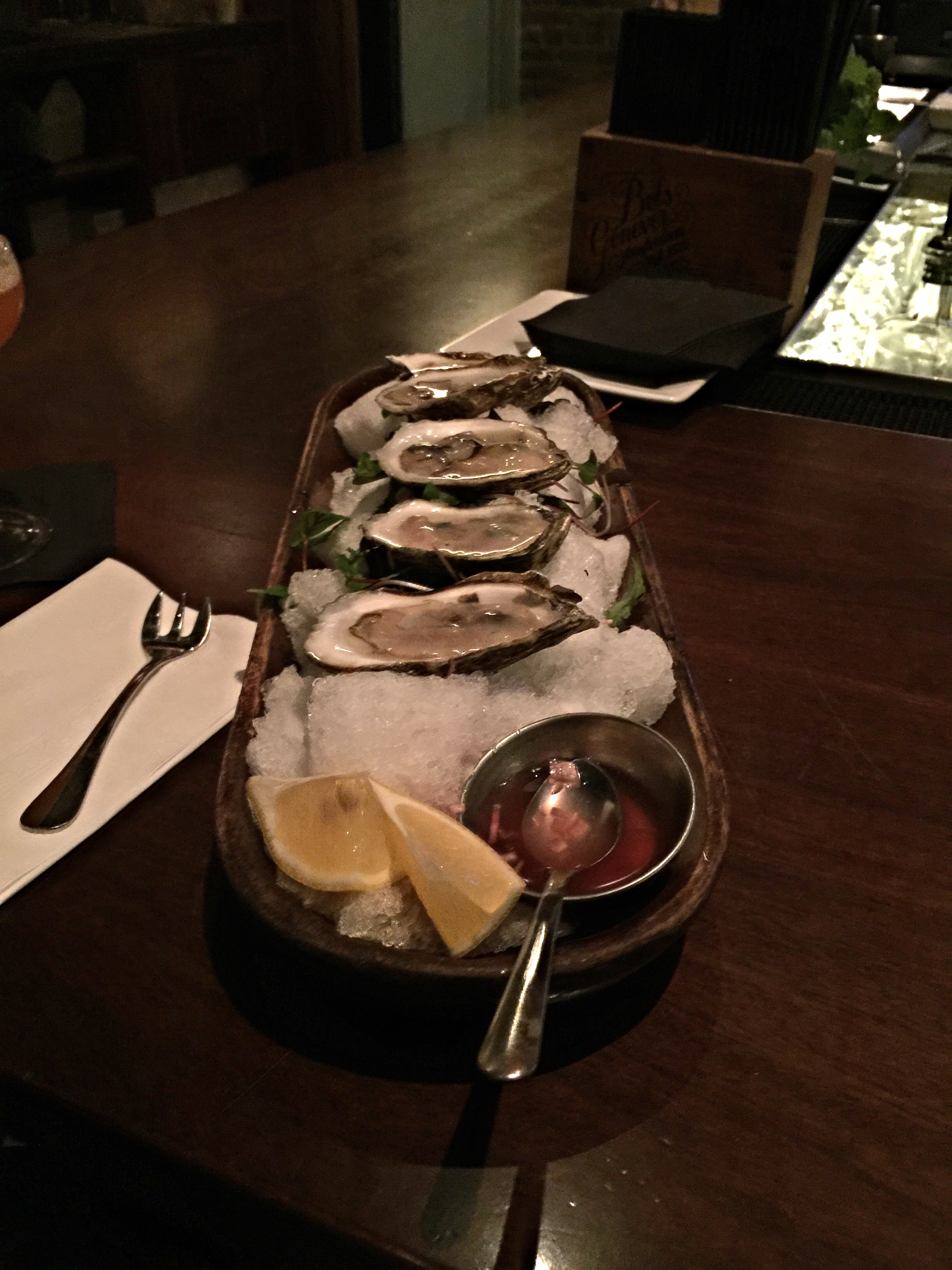 Looking for a bar to take those friends who always seem to want to meet at places like the Applebee's in Seekonk? Lure them back over the state line by taking them somewhere nifty like The Eddy, on (Where else?) 95 Eddy Street, Downtown PVD. For starters, it's open on Monday night (I can pretty much count on one hand the restaurants and bars open in Providence on Monday eves.), which also happens to be their 'Oyster Night', something their regulars are famous for raving about. I do hear they're mobbed on the weekends though (Are you surprised?), so you might want to seriously consider popping in on 'Oyster Monday' or another night mid week - especially if you're one of those peeps who like to scope things out without having to rub elbows with 3-4 dozen others.
So, yes, it's small-ish when it comes to square footage, but big in terms of atmosphere which, online, is described as 'dimly lit and stylish'. The good news? It is! Just not excessively so. What I mean by that is it isn't so dark and broodingly stylish that, after stepping over the threshold, you instantly feel like a super dweeb who just rolled in from the 'burbs, wearing the wrong brand of boots or kicks. (Btw, according to everything I've been seeing lately, Chuck Taylor All Stars are no longer considered hep. WTF?!? I own 'like' three pairs!)
On to the cocktail menu. (Wondering about those oysters? We enjoyed them...And there are other small plate options, including a Bavarian pretzel with maple butter, if you want a nosh. ) Now, back to the alcohol. True Story: I am one of those people who usually orders a Pinot (Grigio or Noir) at a bar. If you are too, better chuck that go-to while you're at The Eddy. Because you must order a cocktail there. Ours were mixed and served with a lot of care and attention to detail and tasted damn good. B. had the Petal Pusher (Can't tell you the ingredients, but there is a pic above.). I had the Airmail, a mixture of Barbancourt 5 Star Rum, honey, lime, prosecco, and Angostura Bitters ($12, which B. tells me is considered a little pricey, but we both agree that it was worth the splurge).
And, speaking of airmail, there's a ginormous mural of a jet plane covering a side wall. (See photo above.) I can't help but wonder what the significance is? Is the owner of the bar a pilot? Did he/she work for a major airline? Are "they" a relative of Howard Hughes? Hmmmm
[Update: Turns out, none of those are true, but someone did just text me to say that the artist is a huge deal and apparently, also resides in the neighborhood where I grew up. That means we're connected, right?]
Ciao for Now,
Patty J
Photo Credits: All photos courtesy of Patty J. and the PattyJDotCom Instagram account.